Message from chairman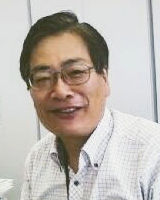 Hello!

Edo Tokyo Guide Group is a volunteers guide group born in May, 2006.
Our group is highly appreciated for not only the guide for the sightseeing but also the introduction of the history and culture with our rich knowledges about the old and modern Tokyo.
Our guide covers the whole area of the metropolitan Tokyo as well as the heart of Tokyo such as the East Garden of the Imperial Palace and the Marunouchi district. We'll make you your itinerary for the guide based on your requests and wishes. We can meet your requests by English, Italian, Spanish, French, German and Chinese.
Do not hesitate to consult us about anything regarding the tour guides.
Tokyo is now changing day by day for the Tokyo Olympic and Paralympic games in 2020! Let's enjoy with us while walking and exploring for newly developing and exciting Tokyo with traditional culture and history, Edo!


Chairman of Edo Tokyo Guide Group
Hideo Kobayashi
---
Go for Tokyo exploration with our experts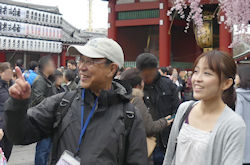 We are a group of volunteer guides showing you the historic, modern and scenic places in Tokyo.
---
Explore anywhere, from the well-known places to the hidden spots, with your familiar language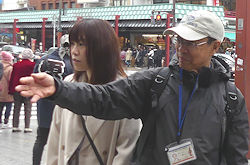 We provide you with a custom made tour on your requests introducing you the hidden spots of side streets
as well as well-known Asakusa area, the Imperial Palace, shrines and temples.
We know and love the Japanese cultures, traditional arts and modern pop cultures.
We are always trying to improve our guide skills and to deepen the knowledge about history, and cultures of Tokyo. This allows us to develop the new guide spots and routes with interesting stories. Seeing is believing!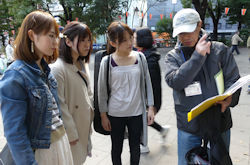 We have English, French, German, Italian and Spanish speaking guides.
---
FAQ
Q: I am currently 17. Can I book a free guide?
A: No. If you are under 18 years old, please find an adult person who is 18 years old or above to make a request and to accompany you.
---
Q: We need a guide only for a few hours. Do I still need to pay JPY3,000?
A: Yes, as it is not guide fee, but other expenses reimbursement.
---
Q: We are a group of 10 people. Can we still request a guide?
A: No. We are sorry, but we cannot accept a tour request from a group more than ten people.
---
Q: What language do guides speak?
A: We have English, Italian, French, German, Spanish speaking guides.
---
Q: For how many days can I request a guide?
A: As many days as you wish, but we can't always guarantee the availability of the guide(s) for all the dates.
---
Q: When should I request a guide?
A: At least, two to three weeks before leaving your home. We can't meet last-minute requests. Any request with short notice will not be responded.
---
Q: What if there is no guide available?
A: We will let you know so, unless your last-coming requested date is within two weeks. Your request will not be handled as well, in case the services you request are out of our scope or if any comment written in the request form is deemed to be inappropriate.
---
Q: When is the busiest time for EDO TOKYO GUIDE GROUP?
A: The cherry blossom season (from middle of March to middle of April) and the summer season (August). Many of our members are not available during the New Year holidays and the Bon holidays (middle of August).
---